Aslan Rolston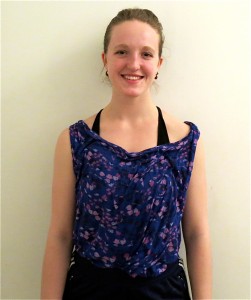 Interview with Aslan
Name: Aslan Rolston
Hometown: Los Angeles, CA
What in your dance background has shaped you into the dancer that you are today? The summer after I moved to Raleigh, NC I attended the American Dance Festival. That summer I found my purpose in my passion for dance. The amount of what you are introduced to is incredibly fortifying and showed me movement in ways I never knew to look for on my own such as Gaga and contact improvisation. I have been to ADF three times since that summer, each time absorbing than I had expected.
How do you feel when performing? When I perform I am ready to give the work to the audience and begin the intrinsic dialogue between the performers on stage and off. My favorite thing about performing is the unpredictability it holds. It's a wild and strange feeling to be entirely prepared for a show and still feel as if anything could happen.
What is your warm-up ritual? My warm-up consists of a variety of yoga poses, hanging over my pelvis and improvisation all working towards gathering my center.
What's in your dance bag? In my dance bag I have… a spiky roller, arch roller, pinky ball, tiger balm, arnica, tape, socks, long sleeve shirt, stray bobby pins, nuts, dried fruit, and my big, red water bottle.
What is the most rewarding aspect of being a dancer? That your physical and mental understanding of movement is constantly in flux, bending from what you know and daring to discover something new. I admire the constant application of thought and physical expression in a dancer's daily life; our days become evening length works, the people we know become sources for interaction, every environment becoming a stage.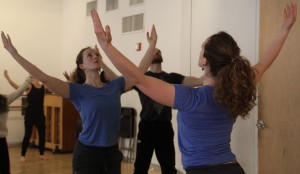 What is a normal day-in-the-life for you? My day always begins with a glass of water and stretching, my start button. Currently I am modeling with the School of Visual Art which keeps me booked for 6 hours a day on average 6 times a week. In the afternoons I am either babysitting or working on work of my own or in rehearsals. On the weekends you can find me at the Park Slope farmers market selling Chicken and Eggs!

What keeps you going? Walking and writing are two things that ultimately keep me grounded and sane. I have diligently practiced them both since I was 16 and really enjoy having a tangible collection of my thoughts, however frayed and strayed they may be. Another part of my regime is nutrition. I use a lot of Vegetarian and Macrobiotic recipes for the food that I prepare as well as continue to study the ways in how attention of diet can aid the body in the most of natural ways. In specific to this rehearsal process I have had to take up more cross-training activities so I have implemented a more consistent yoga practice.
As an artist, what led you to the Company? What interests me most about DGDC is the complexity of the material and how even though I naturally move differently, I am able to use the movement as a way to stay break away from my comfort zone and stay vulnerable.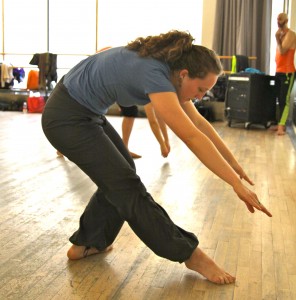 Describe the process of working on The Oracle. When the cast of The Oracle first met, we immediately started creating material. In this work there are many characters and interweaving relationships. We don't know all of the in's and out's of our characters but through the material I have begun to sense where my character might belong in The Oracle. The movement is something you have to stay committed to so that once the characters are revealed it's adding all of the extra flavor and colors of the people and the work. The people involved in this project are all magnificent creatures, truly dedicated to the process and willing to try anything.

What has been most challenging about the process and the work? The intensity in which we are being worked in rehearsals with the addition of the cross-training I am doing outside of the space. I am looking forward to becoming stronger as the process continues, but as of now, the stamina is continuing to be built.
Have you made any new discoveries during the rehearsal process? In the rehearsal process I am finding more ways to take bigger risks and fall into unknown places. Surrendering to what I don't know and following Daniel's lead to discovering it.
Why do you think someone should come to see The Oracle at BAM at the end of May? I think that whoever comes to The Oracle will be taken through a cyclone of imagery and colors to paint their way through the experience. The audience will see the escalation of relationships and watch as they cycle through all of the members of the Oracle; a cyclical configuration of emotions are bound to pour from the movement.