COLLEGE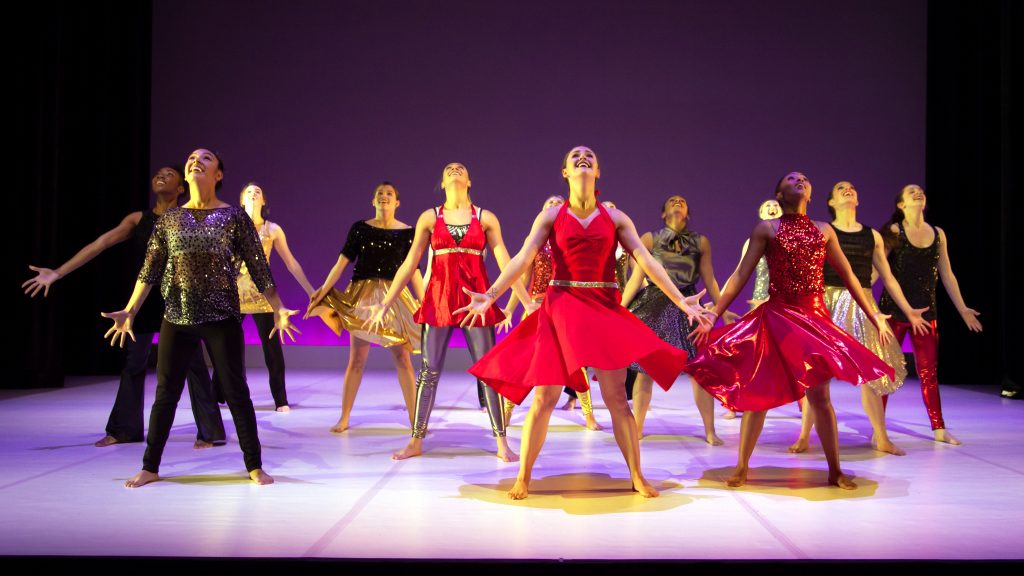 PRE-PROFESSIONAL PROGRAMS
Our programming includes intensive training for students pursuing dance as a career at the pre-professional and/or university level. The Company has a twenty-year history of choreographic and teaching residencies and master classes at colleges and universities.
We have enjoyed residencies at the following schools:
Middle Tennessee State University
Joffrey Ballet School
University of Florida
Georgian Court University
Troy University
Beloit College
Florida School of the Arts
Buffalo State University
Kennesaw State University
The University at Buffalo
Oakland University
Kenyon College
The University of Tulsa
The University of Michigan
The University of Wisconsin-Milwaukee
The University of North Carolina School of the Arts
Virginia Commonwealth University
Fordham University/The Ailey School
Princeton University
New York University
Barnard College
The University of the Arts
The Interlochen Center for the Arts
Escola de Dança/Fundação Cultural Estado da Bahia
Stephens College
Master Classes
Master Classes are a dynamic way to learn choreography from the repertory and the charismatic style for which the Company is known. One of our favorite master classes is Daniel's signature class "Rhythm, Speed, and Motion: A Folk-Influenced Contemporary Dance Class."
Rhythm, Speed, and Motion takes basic movements common to everyone, adds concepts of concert dance, and blends them together to create an innovative challenging folk-influenced contemporary dance class. Cultivating awareness and control of one's total body is the goal of this rigorous class. Leave your judgment at the door and enter into a fast-paced, energetic and supportive environment where everyone is encouraged to tackle coordination riddles and rhythmic tongue twisters for the entire body. Be prepared to move quickly, sweat and have fun!
We have enjoyed master classes at schools including:
Duke University
University of California, Irvine
The University of Rochester
The University of Maine
The University of Michigan
Rutgers University, Mason Gross School of the Arts
Santa Monica College
Grossmont College
Irvine Valley College
Glendale Community College
Pasadena City College
The University of the South
Chandler-Gilbert Community College
Nazareth College
Alabama Dance Festival
Charlotte Dance Festival
Oakland University
The University of Tulsa
Winthrop University
SUNY Brockport
Pohjois-Savo Polytechnic,Kuopio, Finland
Turku Conservatory, Turku, Finland
Escola de Dança da Fundação Cultural de Bahia, Salvador, Bahia, Brazil
To get a taste of a university-level class taught by Daniel visit the
CLASS TRAILER and MASTER CLASS videos.
Summer Dance Festival
Please visit our FESTIVALS Page to learn more about our summer programming.
TESTIMONIALS
Read a former student's reflection on working with the Company:
"The Washington Heights Summer Dance Festival was a wonderful experience! The varied areas of dance that were implemented into the festival made for a well-rounded dance experience. Daniel brought in people that were working in the field today for master classes and made them accessible to us so that we could ask for guidance and advice, as well as learn technique and repertory from them. Aside from the slew of guest artists, Daniel had us perform with his esteemed company, Daniel Gwirtzman Dance Company. He and his dancers really made us feel like we were a part of the company with them, and we all got to become one big family for the time we were there. Overall, this workshop was a wonderfully positive experience and I would recommend it to any pre-professional dancer that is looking to broaden their horizons and work with a great dance company and prestigious artists in our field."
Eric Hill, senior at Ohio University, Athens, OH