COMMUNITY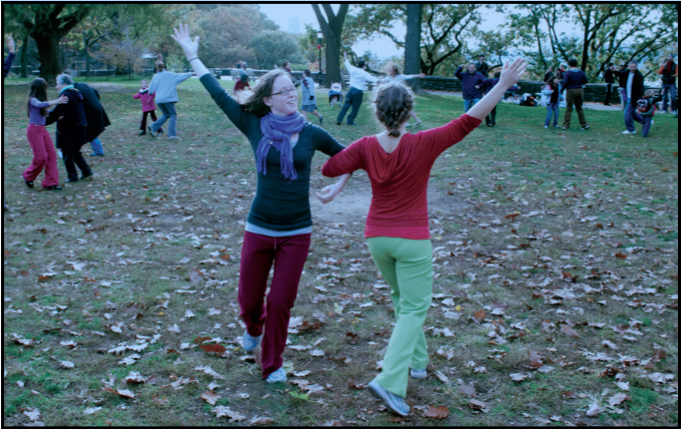 The Company is available for a diversity of programming geared toward a range of populations, including ESL bilingual students, parents, teachers, administrators, and special education students, including the developmentally delayed and the physically challenged.
We have conducted professional development workshops for New York City Department of Education dance educators and have helped to write the Blueprint for Teaching and Learning in the Arts, a curriculum mandated by Mayor Bloomberg.
STAFF & PROFESSIONAL DEVELOPMENT WORKSHOPS
Working with the medium of dance, we offer workshops emphasizing team-building, stress management and trust.
IN THE STUDIO
This critically and publically successful series of lecture-performances is designed to demystify concert dance and to empower audiences to speak about dances they have just seen. This program is central to the Company's mission of making dance accessible to all. Narrated by Daniel and the Company, the focus of these programs is specifically to increase one's understanding of dance through an intimate, personal interactive exchange. At the least audiences may learn choreography, such as The Chair Dance, while in their seats.
DANCE AT THE PARK
The Company has collaborated with a host of institutions including the NYC Department of Parks & Recreation and Friends of Fort Tryon Trust to present interactive public workshops designed for all ages and skill levels.
COMMUNITY CHOREOGRAPHIC PROJECTS
The Company has a history of creating works involving community members of all ages and
abilities. This commitment to community outreach is central to the Company's mission of
making dance accessible, exciting, and collaborative.
Framework & The Carousel Dance 2009
The Company invited twelve second-grade students to join the Company for two dances.
Brazil In 2003, the Sacatar Foundation invited Gwirtzman to create for eight weeks on the island of Itaparica, in Bahia, Brazil. He worked with ten previously untrained dancers on the island and twelve trained dancers from the Fundacao Cultural, a state-run dance school in Salvador, the capital city across the bay. At the end of the two-month period, Daniel Gwirtzman Dance Company presented an evening-length dance piece called Renascimento at the theater located on the central square of downtown Salvador.
Finland In 2002, the Company was in residence in Rauma, Finland for two months thanks to an invitation from Raumars artist-in-residence program. During the residency, the Company developed the choreography for Evoluutio, a project that brought together over sixty local people, children through senior adults, most of whom had no previous dance or performance experience. Additionally, the Company performed and taught in various studios, schools, universities and theaters elsewhere in Finland.
The Yard The Company has had a relationship with The Yard, a renown colony for the performing arts on Martha's Vineyard, since 1998, working with students of all ages, adults and senior adults in classes and in the development of multi-generational performances. In addition to the 1998 Evolution which integrated community members–children, professionals, and senior adults–into an evening-length dance with the Company.