Schedule
15TH ANNIVERSARY VIRTUAL SEASON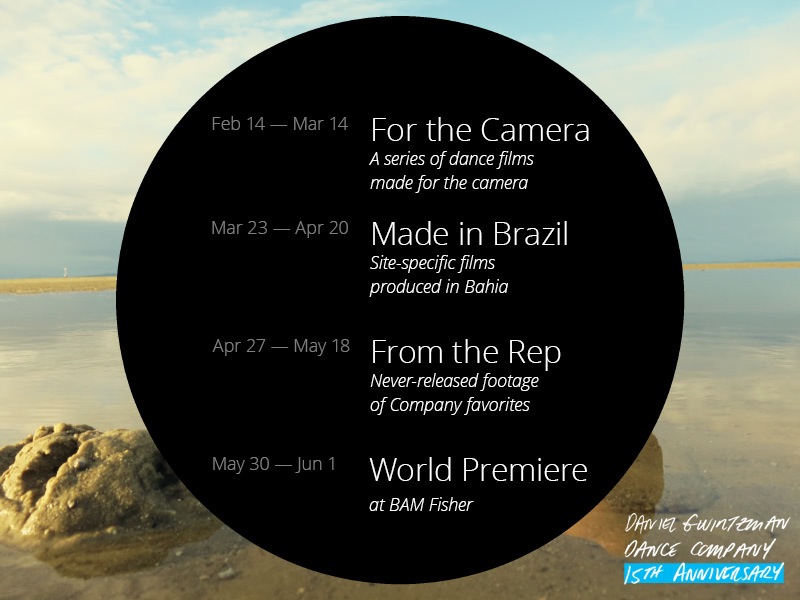 Click HERE to view the Season's Dance Films
Click the photo (right) to enlarge!
For The Camera
February 14-March 14, 2014
February 14: Encounter
Shot on location in New York's Grand Central Terminal this new dance film presents an encounter between two strangers…or have they met before?
February 21: Joffrey Does Encore: A Look Behind the Curtain
This behind-the-scenes documentary captures the aspiring dancers of The Joffrey Ballet School as they learn the Company's Encore and prepare for performance.
February 28: No Trespassing
Filmed in an abandoned barn, No Trespassing features Gwirtzman in an extended solo, filmed by visual artist Stefanos Milkidis.  Screened at the American Dance Festival's International Screen Dance Festival, July 2013.
March 7: Sisyphus
Inspired by the majestic landscape of northern California, the collaborative team of Gwirtzman and Milkidis update the Sisyphus myth with this site-specific reflection on time, futility and work.
March 14: Life Coach Danny: Spring Tips
Back by popular demand, Gwirtzman's nutty LCD is a character guaranteed to make you laugh.  Have you seen his popular New Year's Tips? Over 13,500 views!
Made in Brazil
March 23-April 20, 2014
March 23: Chegada
Chegada means arrival in Portuguese and marks Gwirtzman's return to Brazilian soil after exactly ten years.  The fertile natural landscape provides the backdrop of this intimate reunion in this tribute to the beauty of Bahia.
March 30: Pier
The perfect symbiosis of elements: a clear day during the heavy rainy season with good light at high tide.  In Bahia surprises abound and when the elements conspired the collaborative team ran.

April 6: Into The Streets
With wit, great will and a cast of Brazilians, Gwirtzman leads the enthusiastic literally into the streets of  Salvador. Filmed at the time of historic protests this film is a peaceful response to the violent uprisings, encapsulating the Company manifesto that dance is for everyone.
April 13: Crab World
It's a Crab's World after all.  Finding inspiration from the limitless number of crabs in the sand and water, Gwirtzman imagines life from a crab's perspective.  An abstract meditation on nature. Directed by Rafael Silva de Carvalho.
April 20: Rock The Boat
Classical, improvisational and hip-hop forms blend into a picnic of delights when this seaman's obsession with dance animates a series of empty boats.
From The Rep
April 27-May 18, 2014
April 27: Scenarios
The choreographer's favorite dance, Scenarios depicts a family in harmonious
and abusive times through complex partnering. This is the first time ever seen since its premiere in the theater in 2002.
May 4: Clue
Inspired by the namesake game and movie, Clue, made for the camera, distills the glamour, suspense and mystery of a gathering among friends.  Created in 2010, a Company favorite.
May 11: Tribe, Part 1
A program-length dance commissioned by Tablet magazine and presented at the Museum of Jewish Heritage, the dance is inspired by ancient themes and beliefs, exploring the human body as a repository of reflection, community, struggle, celebration and strength.

May 18: The Road to BAM
As yet created, this behind-the-scenes film will present the first sneak peek of the Company's upcoming world premiere.

May 30, 31, June 1: Performed at BAM's Fishman Space at the BAM Fisher, Gwirtzman teams up with his A-list of dancers and longtime collaborators to create an intensely-focused, dynamic, intimate dance full of DGDC hallmarks: virtuosity, charisma, stamina and innovation.