DANIEL GWIRTZMAN
CLICK HERE TO READ Daniel Gwirtzman's CV
"He's a tall, lanky, loose-limbed guy. When he kicks a leg out, wheels his arm around, or indulges in spates of very fast, intricate steps, he stirs up the space and makes it contract and expand around him. He gets under the skin of the music he loves, blending casualness with precision…He passes his style on to his lively performers without impinging on their individuality."
Deborah Jowitt, The Village Voice
DANCER
Described as a willowy John Travolta, sensual, playful, a rag doll, unusually supple, and one who moves like the wind, Daniel has toured nationally and internationally with concert dance companies, including Garth Fagan Dance, Mark Morris Dance Group and Daniel Gwirtzman Dance Company. Recent performance credits include: The Playhouse at Abrons Arts Center; Lincoln Center Out-of-Doors with Burnt Sugar Dance and Don Byron; Ailey Citigroup Theater; La MaMa; Dixon Place.
"Mr. Gwirtzman does know that in dance less can be more. And that's a good thing for any choreographer to know. He can evoke strong feelings with a few gestures."
The New York Times
CHOREOGRAPHER
Praised for its entertaining flair, stylistic diversity, musicality, innovation and accessibility, Daniel's choreography has been performed at venues throughout the U.s. and abroad. He has choreographed modern, musical theater, ballet, jazz and contemporary dances for his own and other companies and departments, including the Rochester City Ballet, North Carolina Dance Theater, Eisenhower Dance Ensemble, the University of Tulsa, the University of Michigan, the North Carolina School of the Arts, Virginia Commonwealth University, Fordham University/The Ailey School, Princeton University, New York University, Barnard College, Duke University, The University of the Arts, The Interlochen Center for the Arts, and the LaGuardia High School for the Performing Arts. Encore, a theatrical show about putting on a show, has excited critics and audiences alike since its premiere in 2007 at Joyce SoHo in New York. An official selection of the 2009 New York Musical Theater Festival, Encore lives at the intersection of modern dance and the contemporary musical theater. In 2010, the DanceBreak Foundation, supporting "the next generation of great Broadway choreographers," selected Daniel.
"With an eye for beauty and an exacting attention to detail, Daniel Gwirtzman takes good care of his audience and his performers. Gwirtzman's ideal of beauty is kind to the body: His choreography celebrates the long lines and musculature of dancers' bodies. The dancers are flawless and picture perfect too. Gwirtzman's work is perhaps best equated with the old-school exuberant style of great modern choreographer Alvin Ailey."
Show Business
EDUCATOR

New York and international studio credits, along with an extensive history guest teaching within the university system, have earned Daniel acclaim for his charismatic and generous teaching style and trademark blend of virtuosity and pedestrianism. His leadership was recognized in 2010 with a multi-year Performing Arts Recovery Initiative grant from George Soros's Open Society Foundations and the Fund for the City of New York. In 2008 he was one of twenty-five acclaimed dance artists from fifteen countries invited to attend the Rural Retreat near London, a think tank and leadership conference for future leaders in dance sponsored by DanceEast, one of the UK's leading dance organizations. Daniel helped to develop the Blueprint for Teaching and Learning in the Arts, the NYC arts curriculum mandated by Mayor Bloomberg. In 2011 and 2012 the Company received grants from Tony Bennett's Exploring The Arts foundation.
"An abundantly inventive artist with a subtle but sure defiance of gender roles. As a dancer he's a beauty too—lithe, sensual, playful, a rag doll, whose strength and control of form surprise"
The Village Voice
COMPANY DIRECTOR
For over eighteen years, Daniel has gained recognition for directing a large, stylistically diverse repertory, attracting outstanding dancers, and cultivating a "philosophy that dance should celebrate human achievement through a combination of discipline and unbound optimism." (The New York Sun)
CRITICAL REVIEW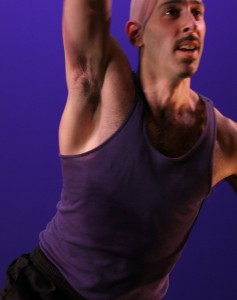 A whirling dervish of a choreographer…a tall strapping fellow who moves like the wind…he's a commanding figure no question about it. WQXR, THE NEW YORK TIMES
Slender and graceful, like a willowy John Travolta. THE MARTHA'S VINEYARD TIMES
Gwirtzman especially was like an instrumentalist. The lavish trickling of his arms was a melody made visual. THE VILLAGE VOICE
Daniel Gwirtzman offers fetching dances that display nuanced musicality and notable choreographic craft. Gwirtzman exudes a strong stage presence. BACK STAGE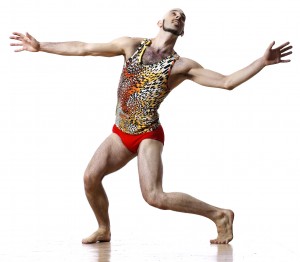 His dancing was beautiful, with elegant lines and a palpable enjoyment of movement…technically impressive and…exuberantly performed…a joy. NEW YORK DANCE FAX
An infectious delight in performing. THE NEW YORK TIMES
…intriguing confrontations and complex relationships were skillfully evoked through deft partnering and economically shaped sections. I appreciated the matter-of-fact performance manner, the crisp, smooth execution of the interestingly shaded and precisely delineated movements, and felt throughout that I was watching the work of someone very much in control of his craft…Gwirtzman always made it clear that important matters were at stake. DANCEVIEW TIMES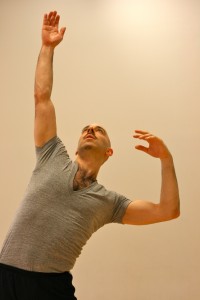 Mr. Gwirtzman is the tallest and the lightest on his feet. His and everyone else's toes are unfailingly pointed. All movement is matched, even to the crooks of fingers and the technique of slow motion rolls on the floor. ATTITUDE: THE DANCERS' MAGAZINE
The man's body, long and lean with a stiff torso, suggested a Christ-like body hanging along that vertical of light. THE NEW YORK TIMES
…headed in Mark Morris's direction, moving dancers to music with acute sensitivity. THE VILLAGE VOICE
Gradually building up from a solo into a quartet, "Timebomb" doesn't explode all at once. Instead, eyeing each other warily as they work in the round, negotiating handholds and counterbalances in fraught encounters, the dancers suggest participants in the kind of complex schoolyard game that can turn brutal in an instant. A drum-heavy score helps sustain the tension, but it's mostly Gwirtzman's choreographic craft and invention—setting the free swing of limbs and bodies against forces of suspension and hesitation—that keep the work taut and surprising. THE NEW YORKER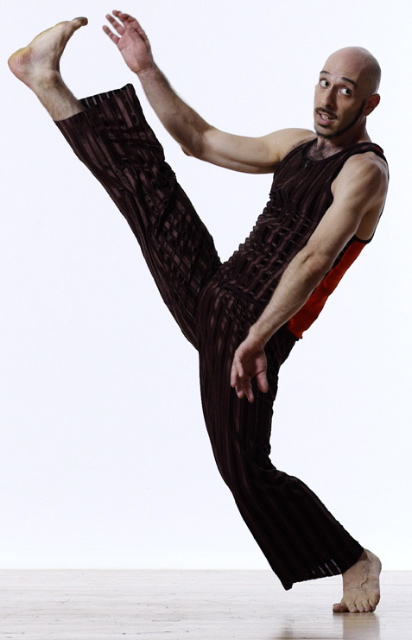 A rangy man who can command a stage just by spreading his arms. THE VILLAGE VOICE

Mr. Gwirtzman has created a work that is amusingly described in press materials as "a 40-minute solo for the dancer who has been with him the longest … himself." Called "The Lecture," it is set to a score of recorded lectures on mathematics, human evolution, the history of language and the like. It should be fun to see what Mr. Gwirtzman, a lanky, supple mover with a nicely ironic sensibility, does with that. THE NEW YORK TIMES