THE COMPANY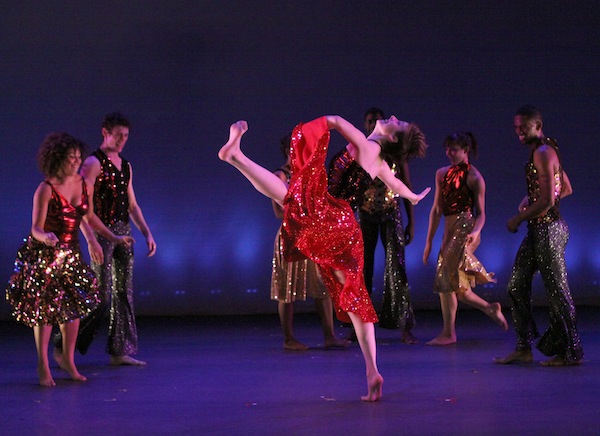 OVERVIEW
The acclaimed New York-based Daniel Gwirtzman Dance Company, a nonprofit organization directed by choreographer, master teacher and dancer Daniel Gwirtzman, has demonstrated a commitment to exceptionally-high quality programming since its inception in 1998.
In 2008, in honor of its tenth anniversary, The New York Sun noted that the Company was "founded upon a philosophy that dance should celebrate human achievement through a combination of discipline and unbound optimism." The Company cultivates the creation of innovative art and presents this through programming that allows anyone to join in the dance in a variety of ways.
Receiving strong critical attention consistently since its inception, the Company is noted for its large repertory, entertaining flair, stylistic diversity, musicality, innovation and accessibility. Blending virtuosic precision with pedestrian ease, the infectiously appealing dancers are renown for their charisma. Hard to categorize. Easy to enjoy. The Company has steadily performed in a wide variety of venues, participated in festivals, residencies, and developed a well-regarded education program. To learn more about our EDUCATIONAL PROGRAMS and HISTORY click HERE.
HISTORY
The Company, recently awarded a Performance Recovery Initiative Grant from George Soros's Open Society Foundations and the Fund for the City of New York (2010-2012), has a history of foundation, corporate, critical and public support. DGDC has been awarded residencies by the Joyce Theater Foundation, The Yard, Raumars Artist-in-Residence Program (Finland), the Sacatar Foundation (Brazil), and the Djerassi Resident Artists Program (CA) among others. The acclaimed hit Encore, an evening-length show conceived, directed and choreographed by Daniel which premiered in 2007 at Joyce SoHo in New York City, was an official selection of the New York Musical Theater Festival in 2009 (www.nymf.org). The piece continues to tour and be performed by other companies. Visit our REPERTORY page to READ MORE…
PHILOSOPHY
The heart of our philosophy is that anyone can learn to dance, given the interest and discipline. We strive to teach people how dance can play a meaningful part of their physical and overall well-being. Since our inception, the Daniel Gwirtzman Dance Company has been transforming diverse populations of all abilities and ages into dancers.
PARTNERSHIPS
The Company thrives on collaborations with community-based and cultural-based organizations throughout and outside of New York City. Its rich history of partnering with college and university dance department programs and professional companies has led to residencies throughout the country and abroad. Contracted with the New York City Department of Education since 1999, the Company has taught dance to over 12,000 students, parents, teachers, and administrators.
THE DANCERS
Click HERE to see photos and read bios of the Company members involved in the Jacob's Pillow Project.

Daniel Gwirtzman
Producer, Director, Choreographer, Dancer
Hometown: Rochester, New York
Daniel Gwirtzman directs, choreographs, and dances for the New York-based Daniel Gwirtzman Dance Company, a nonprofit performing and teaching organization. Since 1995 his work has been received to critical acclaim. Known for its entertaining flair, stylistic diversity, musicality, innovation, and accessibility, his choreography has been performed at venues throughout the country and abroad. As a dancer he has been described as a willowy John Travolta, sensual, playful, a rag doll, unusually supple, and one who moves like the wind. He has toured nationally and internationally with Garth Fagan Dance and the Mark Morris Dance Group, among other companies and has been a guest choreographer at various institutions including the North Carolina Dance Theater, the University of Michigan, the North Carolina School of the Arts, Fordham University/The Ailey School, Princeton University, New York University, Barnard College, Duke University, The University of the Arts (Philadelphia), The Interlochen Center for the Arts (Michigan), and the LaGuardia High School for the Performing Arts. Gwirtzman helped to develop the Blueprint for Teaching and Learning in the Arts, the NYC arts curriculum mandated by Mayor Bloomberg. His solo Character (excerpted from ENCORE) was presented at the National American College Dance Festival's Kennedy Center season in 2006. In January 2008 he was one of twenty-five artists from fifteen countries invited to attend the Rural Retreat near London, an international think tank/leadership conference for future leaders in dance sponsored by DanceEast, one of the UK's leading dance organizations. Last year, his essay Fan The Flames was published in Dance/USA's spring journal and he choreographed Kiss Me, Kate for the Muhlenberg Summer Music Theater Festival. Gwirtzman holds a BFA from the University of Michigan, and an MFA from the University of Wisconsin-Milwaukee.
Cary McWilliam
Hometown: Ann Arbor, Michigan
Cary McWilliam is an original DGDC member, as both performer and teaching artist. She joined the Daniel Gwirtzman Dance Company at its inception in 1998 but has danced with Daniel since 1991 when students at the University of Michigan. Cary has toured with DGDC to Finland, much of the northeast and many teaching and choreographic residencies to The Yard on Martha's Vineyard. She has been teaching for DGDC for many years and leads the Company's professional development, Parent as Arts Partners workshops and participates in facilitating professional development for New York City dance specialists. Cary has also performed with Artichoke Dance Company, Rosa Mei Dance, Anita Cheng Dance, Racoco Productions and most recently the Kinesis Project Dance Theater. Cary also teaches for Lincoln Center Institute and Music for Many.
Christian von Howard
Hometown: Honolulu, Hawaii
Christian von Howard, affectionately known as "Cakey", is one of the senior members of DGDC, not to mention a long time friend and colleague. Danny and Christian's artistic history reaches back some twelve years and continues to grow on a day-to-day basis. Christian's contribution to the Company is never ending and will always be full of laughter, warmth and of course dynamic dancing. Christian is an international performer, choreographer, teacher and the Artistic Director of the VON HOWARD PROJECT. He is an Assistant Professor of Dance & Choreography at Virgin Commonwealth University and concurrently teaches at the Alvin Ailey School in NYC. In 2006, Christian received a Choreographic Fellowship from the NJ State Council of the Arts. His choreographic work has been commissioned by various dance companies, colleges and universities including Columbia College (SC), University of Illinois Urbana-Champaign, Jacksonville University, The Power Company and various others.
Jamie Scott
Hometown: Great Falls, Virginia
Jamie Scott began studying dance in her hometown, and continued training in the pre-professional division of the Washington School of Ballet and moved to New York in 2001 to attend Barnard College. While in school, Jamie began her relationship with the Daniel Gwirtzman Dance Company. After graduating cum laude from Barnard in May of 2005, she began her studies at the Merce Cunningham Studio. She joined DGDC in the fall of 2006, the Cunningham Repertory Understudy Group in January 2007 and Merce Cunningham Dance Company in July 2009. Jamie is currently on faculty at the Merce Cunningham Dance Studio.
Stacy Martorana
Hometown: Cockeysville, Maryland
Stacy Martorana grew up in the suburbs of Maryland, where she fell in love with dance. At 8 years old she began training at the Peabody Preparatory in Baltimore and later went on to study at The North Carolina School of the Arts. It was there that Stacy met Mr. Gwirtzman and began her four-year relationship with the Daniel Gwirtzman Dance Company. Stacy has enjoyed the technical and artistic challenges of Daniel's work, including intense precision, rhythm, and stamina.
Stacy began her dance training at The Peabody Preparatory in Baltimore, Maryland. In 2006, she graduated from The North Carolina School of the Arts with a BFA in Contemporary Dance. Upon graduation, Stacy moved to NYC and began working with the Daniel Gwirtzman Dance Company. Martorana also dances as a member of the Repertory Understudy Group of the Merce Cunningham Dance Company, and The Kazako Hirabayashi Dance Theater.
Madeline Hoak
Hometown: Worcester, MA
I was hired as a teaching artist for DGDC in the fall of 2006. It was my first job in New York. I was a confident teacher, but quickly craved to reach new heights in my work. Early in 2007, I joined the cast of ENCORE. After a year-long hiatus from dancing, it was incredibly challenging, but my reward was the joy of working with stupendous people and performing this razzle-dazzle show. I was hooked; DGDC had expanded me for the better in so many ways. What I hope to give back to my students and the performance Company is the exuberance I feel for moving through life.
With DGDC Madeline has performed at Joyce SoHo, Times Square, and schools throughout NYC. With Kinesis Project she has performed at the Cunningham Studios, Philly Fringe Festival, Ailey Studios, La Mama, and West End Theater. Madeline has performed aerial work at SLAM, Embody Studios, La Mama, South Street Sea Port and upcoming with Above and Beyond Dance at The Flea Theater. Her own choreography has appeared at BAX and Abron Arts Center. Madeline received BAs in Theater and Dance from Muhlenberg College.
Michael Novak
Hometown: Rolling Meadows, Illinois
I met Daniel Gwirtzman during his first and only year at the University of the Arts in 2001; he was my first teacher in improvisation. Since then, I have trained at many prestigious dance institutions and performed with a number of regional dance companies. The result is a jazz/theater personality with solid technique and a passion for modern dance and improvisation. In 2007, I re-connected with Danny, and made his debut with DGDC in ENCORE later that year. I remain dedicated to the belief that good food, friends, and conversation are the best remedies for any ailment.
Michael recently graduated magna cum laude and phi beta kappa from Columbia University with a B.A. in Dance, where he studied at Barnard College and performed featured roles in works by Bill T. Jones, Stephen Petronio, Paul Taylor, and Vaslav Nijinsky. He has also trained at Springboard Danse Montréal, Kaatsbaan International Dance Center, and the Pennsylvania Academy of Ballet, and recently joined Gina Gibney Dance. This is Michael's third season with the Daniel Gwirtzman Dance Company.
Corey Wright
Hometown: Baton Rouge, Louisiana
I discovered my love for dance while watching Mikhail Baryshnikov demonstrating "up" and "down" on Sesame Street. While it took years for me to come around (age 17), art through any medium had always been a means of expression. Speaking specifically about dance, it is the versatility of the art that is most appealing to me. The exploration of physically emoting and creating moving art so closely intertwined with present (or non-present) emotion is addictive. Shapes, lines, curves, cutting through space. So fulfilling. I believe that there should be a three-part harmony between the dancer, the message (or concept) and the audience and I wish to convey and transpose a passion that fuels that belief through performance, choreography, and instruction. In May of '07 I joined DGDC and it became the perfect venue for supporting my habit.
In 2007, Corey joined DGDC and it became the perfect venue for supporting his habit. Corey began his professional career as a member of the Louisville Civic Ballet in Louisville, KY under the direction of Donald Tolj and Patrick Hinson. Corey's love for dance infused itself with a love for acting and singing as well and as a result he found himself involved in musical theatre. He has performed in many stage productions including Pippin, School House Rock, Much Ado About Nothing, One Flew Over the Cuckoo's Nest, Dreamgirls, and The Van Driver Experience which premiered at the Cherry Lane Theatre in New York, NY. He has also worked in the television world (Law & Order, 24, and As the World Turns) and can be seen in several national commercials. Corey toured with CHICAGO the Musical from December '07 – June '09 While on hiatus from the tour in the summer of '08, he performed in Orunmila: The Adventures of the Father of Ifa Divination at the National Black Theatre in New York, NY.
Jonathan "Jojo" Alsberry
Hometown: Normal, Illinois
From the first day, about two years ago in the studio with DGDC, I knew that it would be a journey of amazing friends and innovative creativity, with an atmosphere that is always moving with wild momentum. I joined the company for the ENCORE project and immediately became attached. I find it imperative as an artist to be able to express and share the joy and passion that I have for movement and music. Daniel is effortlessly able to inspire the creative individual inside me to come out and play while maintaining technical excellence. I love how we work as a team to create something so challenging and seemingly impossible, then feel it become so musical and organic with the energy of the moment. I will always be a part of the Gwirtzman family and am looking forward to many more creations with DGDC!
Jonathan Alsberry aka "Jojo" joined DGDC in 2007. He is a graduate of Chicago Academy for the Arts and The Juilliard School. After graduation, he began touring with Baryshnikov's Hell's Kitchen Dance and is currently a member of Aszure Barton & Artists and Lar Lubovitch Dance Company. He has preformed with the Met Opera Ballet as a solo dancer, has appeared on MTV dancing along side Madonna and recently choreographed commercials for LG. Jojo is also a choreographer/director/editor for his own company KDT. He would like to thank his parents for the greatest love and support of all.
Jessica Vokoun
Hometown: Marshfield, Wisconsin
I met Daniel Gwirtzman in June 2005, at graduate school, and fell in love. During our second year, I began working more closely with "Danny" on a suite of jazz songs; this choreography eventually grew into ENCORE. Though I am happily married, I have continued this affair and have continued performing with the Company.
Jonathan Alsberry aka "Jojo" joined DGDC in 2007. He is a graduate of Chicago Academy for the Arts and The Juilliard School. After graduation, he began touring with Baryshnikov's Hell's Kitchen Dance and is currently a member of Aszure Barton & Artists and Lar Lubovitch Dance Company. He has preformed with the Met Opera Ballet as a solo dancer, has appeared on MTV dancing along side Madonna and recently choreographed commercials for LG. Jojo is also a choreographer/director/editor for his own company KDT. He would like to thank his parents for the greatest love and support of all.
Becky Chaleff
Hometown: Pennington, New Jersey
Becky Chaleff studied at the Princeton Ballet School until she turned twelve and forfeited training in favor of "cooler" activities like horseback riding and puberty. She resumed dancing after a brief hiatus, compensating for lost time with a gusto that carried her to Barnard College. There, she earned her BA in Dance and English and first met Daniel Gwirtzman. Since graduating in 2008, Becky has performed with danceTactics, Pat Catterson, and Douglas Dunn, and studied on scholarship at the Cunningham Studio, where she continues to be involved in workshops and performances with the Repertory Understudy Group. Becky was delighted to reconnect with Daniel Gwirtzman and begin work with his Company in 2009.

Mia Breaux
Hometown: New York, New York
I was raised in New York however I went to high school in Houston, Texas and graduated from the North Carolina School of the Arts in Winston-Salem, NC. I recently started working with Daniel Gwirtzman and Company on the ENCORE project and have loved learning and performing the choreography. Prior to working with Daniel I had the opportunity to work with the second company of Urban Bush Women and perform at the Lincoln Center Institute. As well as a dancer I am also a dance teacher at Manhattan Country School where I teach creative movement to grades pre k- 8th grade. I enjoy dance because I find it a very expressive and fulfilling art form. I love being able to portray different roles and find a voice through movement. I started dancing at the age of twelve and instantly fell in love. My dance teacher encouraged me to use dance as my means of communication. Without this form of self-expression I would not be who I am today.
Mia earned her BFA in Contemporary Dance from The North Carolina School of the Arts in 2007 where she was awarded the Chancellor's Excellence Scholarship. She has performed works by, as well as worked with, Camille Brown, Brenda Daniels, David Parsons, Amy Marshall, and Jawole Willa Jo Zollar. She would like to thank her Mom for all her love and support.
Chloë Campbell
Hometown: London, England
I am extremely privileged to have the opportunity to dance with the Daniel Gwirtzman Dance Company. I come from a musical theatre background, so it is refreshing for me to be part of a dance company. The unique style of this company challenges me in a way I have not before experienced and has opened my vocabulary and outlook on how I perceive dance. The energy from being a part of this company when you perform is very exciting and I can't help but have a huge smile on my face. For me, dance is about being completely free in the moment and for an audience to get lost in the energy we give them and feel the complete abandonment we get to experience as a performer.
Chloë hails from London, England. She trained for 3 years in Musical Theatre at Millennium Performing Arts. Her theatre credits include: On The Town (Theatre Du Châtelet, Paris and London Coliseum), Desperately Seeking Susan (Novello Theatre, West End), Mary Poppins (Prince Edward Theatre, West End), Our House (UK Tour), Carmen Jones (Old Vic, West End) Shafrika, The White Girl (Vineyard Theatre, Off-Broadway).
George Hirsch
Hometown: Nyack, New York
When I see a dance work that moves me it is often because of the organic, yet precise way in which the dancers execute the choreography. As a dancer my goal is to take concepts from the choreographer and bring them to fruition in a way that is both natural and real to me. My spatial, musical, and contextual relationship to myself and the other dancers are all concepts that are the driving force behind my motivation to dance and to share with others.
George graduated from the Macaulay Honors College at Hunter College, receiving an Honors Degree in Dance. He has since had the privilege of dancing for Artichoke Dance Company, David Capps/Dances, Eva Dean Dance, Regina Nejman and Company, and GoCo in addition to working with DGDC.
Tony Bordonaro
Hometown: Bloomfield, New Jersey
Tony Bordonaro is a graduate of Mason Gross School of the Arts, Rutgers University. He is ecstatic to be dancing with Daniel and be in the company of so many wonderful dancers and genuine people. Among dancing for other concert dance companies in the NY area Tony is no stranger to theatre, TV, and film. As a choreographer, his work was performed at DTW, the Aliey Citigroup Theatre and was presented by the newsteps, emerging artists serious at the Mulberry Street Theatre. He was just seen last on Broadway, "Hailing a Cab."
Luke Murphy
Hometown: Cork City, Ireland
In May 2009 Luke gained a BFA in Dance and English from Point Park University where he performed works by Martha Graham, Agnes DeMille, Bill T Jones, Robert Battle, Heidi Latsky, Edgar Zendejas and Lauri Stallings amongst others. Luke also furthered his education as an Apprentice with Bill T Jones/ Arnie Zane Dance Company and attended The American Dance Festival in 2007 and 2008. He has worked with Sean Curran Company, The Erick Hawkins Dance Company, Heidi Latsky Dance, and is delighted to work with the Daniel Gwirtzman Dance Company. Luke would like to thank Doug Bentz, Judith Leifer-Bentz and Jason McDole for teaching him how to dance.
Hanna-Lee Sakakibara
Hometown: Jerusalem, Israel
Born to a Japanese father and Australian mother, Hanna Lee started dancing at the age of four and soon realized she had a dream of becoming a professional dancer. Moving to NY to train at the Alvin Ailey Dance School as part of the International Student program, Hanna-LEE has trained in a range of dance styles Her credits include both commercial and non commercial projects, including working with Kazuko Hirabayashi, Nejla Yatkin, Shir Dance, Jerboa Dance and appearances in Fox's So You Think You Can Dance. She is thrilled to be a part of ENCORE.
Dwayne Brown
Hometown: Bronx, New York
Before Dwayne's professional dance career began he trained at Vassar College with Stephen Rooks, Kathy Wildberger, Jeanne Czula, Abby Saxon and John Meehan. Dwayne was also a fellowship student at the Ailey School and a Young Artists Scholar for American Dance Festival. After earning his B.A. in Psychology from Vassar College in 2007 he moved back to NYC. Dwayne has worked with Pascal Rioult, Donald McKayle, Anouk Van Dijk, Sean Curran, Marijke Eliasberg & Jana Hicks of The Next Stage Project, Chamber Dance Project and was featured in an Italian magazine, XL, in early 2009.
Elise King
Hometown: New York, New York
Elise King graduated with high honors from Barnard College, Columbia University in 2007. She is a scholarship student at Jennifer Muller/The Works and also dances with Alpha Omega Theatrical Dance Company. In addition to dance, she is very involved in two non-profit organizations—nycTIES and Career Gear. She is thrilled to be in ENCORE.
Ayumi Manabe
Hometown: Ehime, Japan
Coming from very athletic family, I have always loved moving my body and challenging myself. So when I came into a dance studio for the first time, I immediately fell in love with dance. I was fascinated not only because of the physics of dance but also because the art form can be so meaningful t myself and others. Being able to share the love and passion for Dance with Danny and other DGDC dancers has been truly inspiring and challenging.
Ayumi Manabe received her BA from The University of Tulsa. She has performed with Harwelden Institute and LOOK. This is her first season with DGDC and she is thrilled! She wants to thank her family and friends for their support and love.
Oren Barnoy
Hometown: Brooklyn, New York
I have always loved to dance since I was little. That's what my parents tell me. I remember that simple joy of dancing that I felt when I was little and it is that same feeling I get to experience with the Daniel Gwirtzman Dance Company. When we work with the kids and I see their smiles and excitement I am immediately reminded. It's no coincidence that I have been dancing with DGDC since I graduated college 9 years ago and that I continue to be a proud Company member. As an adult there are many feelings along with joy that can be danced and these feelings are expressed during dances choreographed by Daniel Gwirtzman. This passion for dance has led me to dance and perform with other artists and to create my own art. It is with great excitement that I look forward to the seasons ahead dancing with DGDC!
Oren Barnoy has performed with DGDC since 2000. His choreography has been presented at PS1 MOMA, Joyce SoHo, DanceNOW, PS122 (Hothouse), Galapagos, WAX, Potsdam Film School (Germany). He has worked as a performer with DD Dorvillier, Peter Jacobs, Sarah Michelson, Pat Cremins, Maurine Elenhorn, and Heather Kravas. Oren's music has been published by Kotch Records and he is an annual dj at the ULTRA music festival. Oren recently created a video installation that was presented by Art Basel, Miami.
Matthew Hakim
Hometown: Michigan
My first introduction to the Daniel Gwirtzman Dance Company was as a student at the University of Michigan. I was intrigued not only by the choreography, but by the Company's outreach into the public schools of NYC. I wanted to be part of something like that, so I contacted Daniel a little over four years ago and that is where my relationship with DGDC began. Ever since then I have been a teaching artist with the company, teaching in four different schools in three boroughs. I have always enjoyed sharing dance, especially modern dance, with students who may not be otherwise exposed to it. Beyond that, I have always appreciated DGDC's philosophy that what students learn in the dance studio extends well beyond those walls. Lessons are learned while dancing that not only help students academically in other subjects, but socially and emotionally. That is why I have continued my efforts as a teacher and have worked this summer with twelve of my students to set a dance for them to perform for their families. I am especially excited this year to also join DGDC as a performer and look forward to many years ahead.
Matthew has also appeared in Dutch choreographer Anouk Van Dijk's Derivatives in '05. He has performed in works by choreographers Lar Lubovitch, Alexandra Beller, Bopi Patterson, Sandra Torijano, and Jessica Fogel. Matthew graduated from the University of Michigan with degrees in Dance and Theatre. He also has an extensive theatrical backgroud, and appeared in such work as Angels in America where he played Louis.
Maki Somekawa
Hometown: Tokyo, Japan
I am always fascinated by the vast possibility of stylistic diversity that each choreographer has. In terms of that, I believe Mr. Gwirtzman is the most inspiring choreographer I have ever worked with. Since I started to work with DGDC in this season, I keep challenging myself to broaden my physical capability, musicality, and sensibility to work with another person, and to open my eyes as an artist. This opportunity is wonderful gift that are given to me as an artist and I am grateful for it.
Maki Somekawa is originally from Tokyo, Japan. She received her BFA in Dance from Montclair State University in 2007. Moving to NYC, she danced with Bernier Dance Company and Lonee Moretton. She is also a certified instructor in Gyrotonic®, and Gyrokinesis®. She thanks her family, friends, and artistic mentors for their energies of support and constant encouragement.