Or Reitman
Interview with Or
Name: Or Reitman
Hometown: Givatayim, Israel
What in your dance background has shaped you into the dancer that you are today? When I joined the Israeli Mandatory Army Service that was around that time when I decided to do whatever it takes to become a dancer. Looking back, I believe it happened mostly due to the fact that I also grew as a person and discovered my personality, and realized that dance should be a major part of it.
Performing for me is like going on a ride in the amusement park. You wait in line and prepare yourself for such a long time to feel that 2 minutes thrill. And there is only one chance to experience it because when you get back in line you are a different person and you are approaching and experiencing the process differently. When I get on stage I try to focus on feeling natural, simple and be—letting everything go. It doesn't happens very often, but it's definitely a goal I am working towards.
How do you prepare for rehearsals? Usually I do a basic yoga warm-up and stretch, focusing on breath and mobility, clearing my mind and listening to my body.
What's in your dance bag? Ballet shoes, my headshot and resume, a lot of clothes to change, a towel, water and a good book for the subway ride.
What is the most rewarding aspect of being a dancer? Experiencing and exploring movement, the hard work, and coming to the studio everyday and getting to be yourself.
What is a normal day-in-the-life for you? I wake up early either to take a class or go to the gym. Then I have rehearsal and I teach on occasion. I also work for an emerging dance company as an administrative assistant and rehearsal director. I like to end my day in front of the TV watching Sponge Bob Square Pants!  What helps keep me going is a good margarita (pitcher) after a long week in the studio. I take at least two ballet classes a week, go to the gym at least three times, and eat like there is no tomorrow!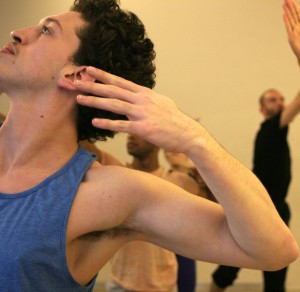 What aspects of the repertory resonate with you? I really connect to the language of the movement—it is simple and sincere. I see myself being a part of it.

Describe the process of creating The Oracle? It is very interesting because the subject of The Oracle is very broad, and I feel as we get to know each other and learn to work together that we will each contribute to the process and what it really means for us as a group as well as individuals. Then eventually share it with the audience. What has been most challenging has been working with new people and learning to adapt to the ambiance of the group, exploring movement in a different way, and then executing it with commitment.
Have you had any discoveries during the rehearsal process? I can be more patient, take more initiative, take more risks, and trust myself. I am learning a lot technically as well as artistically and personally.
Why do you think someone should come to see The Oracle at BAM? I think people should expect an interesting and well-distributed piece of art. The way I see it, it is a layered work that gives the audience the option to connect to it in different ways. They will see a piece that incorporates mystery with anecdotes from day-to-day life.