Sean Hatch
Interview with Sean
Name: Sean Hatch
Hometown: Stafford Springs, CT
What in your dance background has shaped you into the dancer that you are today? My dance career started at 18 years old when I took my first ballet class. Though my time with dance has been short compared to most, I have worked extremely hard to achieve my goals. The Hartt School of Dance shaped me into the dancer that I am today. Getting my degree in dance is the hardest thing I have ever done. It tested me. I came out on the other side stronger. It transformed me into a more confident person, and a more muscular one.
What is your warm-up ritual? Every day I do a 2 minute plank. I love it. I'll plank anywhere…but only for two minutes. I love lying on tennis balls and rollin' out my IT bands on the foam roller. And push-ups.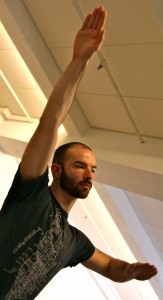 What's in your dance bag? Tennis balls, a rope, an old beat-up issue of Scientific American I bought coming back from a tour to New Orleans, Altoids, contacts, old ballet shoes with a hole in the toe, and usually a shirt and tie from my office job I ran from to come dance.
What is the most rewarding aspect of being a dancer? The most rewarding part of being a dancer is allowing yourself to be fully encompassed in the work. When I am dancing, whether in performance or not, and can be fully in the present, I am truly alive. Being in performance definitely heightens the experience.
What is a normal day-in-the-life for you? I will start my days by drinking an entire French press's worth of coffee while making scrambled eggs and listening to the BBC news hour on WNYC. I then either trek off to work in a multi-million dollar luxury apartment building or on my days off, take class, ride my bike, play Magic the Gathering with my friends, or hang out with my Love. Most afternoons/nights end with rehearsal or watching such shows as Game of Thrones or Real Time with Bill Maher.
What keeps you going? Sleep keeps me going. My bed is my best friend. We don't get to spend as much time together as I would like. Caffeine is my second best friend.
What aspects of the Company and/or the repertory resonate with or interest you? I was immediately drawn to Daniel's use of partnering in his work. Partnering is something that I am extremely interested in. I like seeing what people can accomplish when they work together. Daniel also challenges you to be as dynamic as possible. Sharp movements can never be sharp enough. Seeing such quick dynamic changes in dance is very exciting.
What will audiences see at BAM? They will see a very talented group of artists. Everyone in the work is very strong. We are not a compilation of robots or clones. We are a community of individuals.