Tess Montoya
Interview with Tess
Tess Montoya
Hometown: Santa Fe, New Mexico
The first thing that shaped me as a dancer was a program called the National Dance Institute of New Mexico. NDI is a non-profit organization that goes into public schools to teach dance to third and fourth graders. Their technique is simple and energetic and teaches enthusiasm, hard work, and individuality. When they came to my school in fourth grade, I fell in love with dance and haven't stopped since. They taught me the pure joy of dance and it's ability to bring people together. They also taught me the importance of excellence and how, with hard work, anything can be accomplished. Point Park University also had a huge part in shaping my dancing. The professors and peers I met there have changed my life and the way I dance.
I usually start the day with dance class followed by rehearsal. If not rehearsal I head to whatever other work I'm doing at the time! Sometimes I am babysitting or serving food, whatever it takes to make ends meet. In my dance bag you'll find a book, notebook, pencils, tennis balls, theraband, water bottle, deodorant, extra dance clothes, and lots of snacks!
The process of creating dances is the most rewarding for me. In the beginning, you are a blank slate with only your past experiences to inform you. As you rehearse, friendships grow and challenges are faced. In the end you have a wonderful supportive community and you get to show your artistry to others.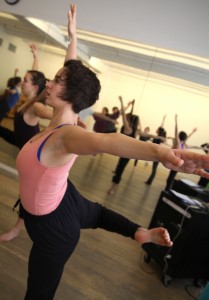 People keep me going! I try to take care of my body with a balance of good food, rest, and training, but in the end it's the people in my life that keep me going. My loved ones keep me sane and no matter what path I take, I know they are there with me.
What attracts me to this work is the range it has from the entertaining and comical to the abstract. There is also a wonderful balance between precision and freedom. The two together bring about a risk that is exciting and challenging! I love that Daniel's work is always on the edge. I feel that I'm constantly challenging myself to be falling and in control at the same time. The result is very exciting to watch and also fun to do.
The process started with lots of material, which is slowly transforming. The movements are becoming more detailed and with that, other components of intention and performance are developing.  Rehearsals become more challenging every day for me. There is always another level that needs to be reached so I know never to get too comfortable or set in my ways! I have been discovering new strength in my body! The Oracle will be an exciting experience about community and relationships shared through intense physical expression!
My warm up ritual is some gentle rolling on the ground followed by a technique class. After this I stretch my body and add any strengthening exercises that I feel are right that day. If I don't take a technique class, I sometimes take a yoga or Pilates class as a warm up. My favorite part of performing is sharing myself with the audience and my fellow dancers. I feel that I have a whole other side of myself that comes alive onstage.