Anna Schön
Interview with Anna
Name: Anna Schön
Hometown: Bronx, NY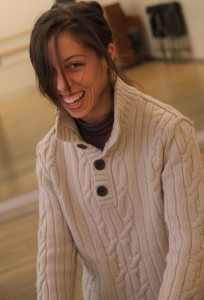 What in your dance background has shaped you into the dancer that you are today? I was never the best in the class. So I learned that observing those that are better than me is the best tool that I have. I learned how to dance from copying the movements of artists that I one day aspire to emulate.
What is your favorite thing about performing? How do you feel when performing? I feel like I am discovering something new every time I perform. Performing helps me live a life that I will never live off the stage and out of the spotlight. Performing also helps me understand and cope with everyday struggles and helps me to put them into perspective, similar to how a dream allows the individual the process the happenings in their lives.
What is your warm-up ritual? 15 pushups and a split.
What's in your dance bag? Water, Snickers, pointe shoes, three shirts, 2 Kiehl's lip products.
What is the most rewarding aspect of being a dancer? Being able to express my love for music through motion.
What is a normal day-in-the-life for you? It's never normal.
What keeps you going? Music music music, Shabbat, and an occasional date☺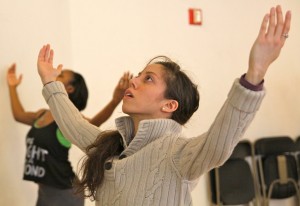 As an artist, what led you to the Company and what aspects of the Company and/or the repertory resonate with or interest you? I met Danny at Barnard. I was stunned and consumed by his organization, intricate and syncopated movements, and daring compositional choices. The specificity of the motivation behind the work as well as the specificity and detail present in the movement. I was sold at the very beginning.
Describe the process of working on The Oracle? I feel like I am part of a community that has been around for a long, long time.
What has been most challenging about process and the work? Scheduling! But that is nothing new.
Have you made any new discoveries during the rehearsal process? Many. One in particular – that community might be a complicated skein of people, emotions, desires, and egos. It is tradition that keeps these threads together.
Why do you think someone should come to see The Oracle at BAM at the end of May? One should come if they want to be drawn into a world that is like our own, only brighter and clearer. They will be enveloped into our world.