Jonathan Alsberry
Interview with Jonathan
Name: Jonathan Alsberry
Hometown: Normal, IL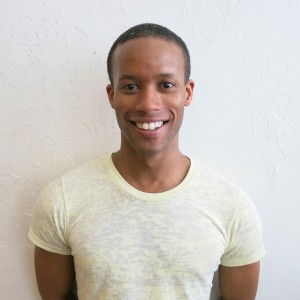 I was brought up through my mother's studio where rigorous training was paired with dance as a form of praise and worship. To this day dance is not a job for me but a spiritual practice that is my direct connection to God, the universe and the energy that binds us all together. When performing I am a vessel and feel the spirt moving through me to spread the joy and beauty of the gift that has been given to me. There is no better feeling for me than that flow of love and energy between the artists on stage and those watching, sharing in heightened moments of fleeting beauty and unforgettable stimulation be it heavy or light in tone.
My warm up consists of core stabilization exercises from Irene Dowd, Limón pfloor work to connect with my breath, a full barre and some sit-ups and push-ups to tone. Aside from essential toiletries and dance clothes I always keep tiger balm and a racquet ball in my dance bag. A Cliff Bar and a water bottle is key to a long day too!
Working on The Oracle has been incredible! Coming into the process midstream has put my learning curve into hyper speed as the detail and required precision of Daniels work is at such a high level and speed at times. I am always so inspired by Danny's ability to creatively push forward despite any injury or conflict in the studio or otherwise. This rare ability has always been so inspiring for me in the seven years I have worked with the Company mostly because in doing so artistic integrity and a positive energy in the room is never compromised and this is paramount for me.
Everyone should come and see The Oracle to witness these wonderful artists I'm sharing the stage with. The space is going to be set in a way you've never seen before. The level of focus and athleticism is so elevated in this work and I can't wait to share it with everyone!
Began training with my mother while still in the womb. My parents to this day remain a strong mentor for my growth as an artist.  Continued training at Chicago Academy for the Arts and The Juilliard School. Ballet master, rehearsal director and dancer for Aszure Barton & Artists as well as Lar Lubovitch Dance Company.
I love working with Danny because we have a kindred devotion to the gift of dance. In the studio there is a fierce flow of creativity and the possibilities seem limitless yet focused. Always seeing the bigger picture, he has been a wonderful inspiration to me and I couldn't be happier to be a part of this anniversary celebration!!