WELCOME from DANIEL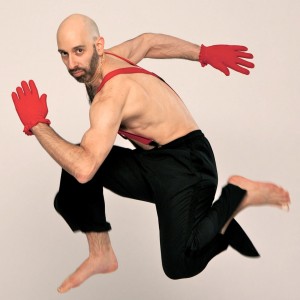 Welcome to our website.  Fall 2013 is an exciting time for us, as we enter into our fifteenth anniversary season.  Fifteen years ago this fall Daniel Gwirtzman Dance Company made its full-evening debut at the Martha's Vineyard Performing Arts Center in Oak Bluffs, MA (Martha's Vineyard) through a residency at The Yard, a colony for performing artists.   DGDC made its full program debut in New York in the summer of 1999.
Reviewing the ambitious evening-length premiere Plasma Field at the un-air conditioned Merce Cunningham Studios during a record heatwave, Madeleine Dale reviewed the dance in Attitude:The Dancers' Magazine: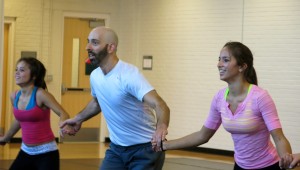 "Even the audience suffered for its art, and it was glorious, absolutely spellbinding…Even if we have to wait another three years, it will be worth it."
Waiting has not been a part of the Company's vocabulary however.  Rather, we have continued to produce dance without pause.  In celebration of our fifteenth anniversary season we are excited to announce the Winter Film Festival, a series of dances on video beginning in January 2014.  Looking both backward and forward, we will show fifteen films, five dances from the repertory never seen except at the time of their premiere, five special video projects and five new dance films made in Brazil in 2013.   And every Sunday beginning November 10 we will launch a favorite dance from the repertory on our YouTube channel.
So many wonderful events in the year, the month-long residency in January at the Djerassi Resident Artists Program where I collaborated on several films with artist Stefanos Milkidis.  One of our films, No Trespassing, screened this past summer at the American Dance Festival's International Screendance Festival.  Summer marked the 80th anniversary of ADF.
In April the Abrons Arts Center presented the Company in Narcissus and Other Myths, a program of reconstructed classics from the repertory (Volcano, Shifting) and new dances, and a film, inspired by Greek mythology.  This summer I enjoyed two months in residence in Bahia, Brazil, which you can read about on the Brazil page.  Early fall brought a most successful teaching tour to North Carolina.  In the middle of November I will detail these engagements as well as announce the Company's exciting anniversary year plans!
The Company's unique programming, which excels in teaching dance to anyone, regardless of ability, as well as in demystifying the process of looking at and talking about dance, continues to earn us greater critical and public support year to year.
Here's a lookback at last year before head onto next!  In 2012 we completed a two year period of grants from George Soros's Open Society Foundations.  From March through June, we were in weekly residence at SAGE, a senior center in Manhattan thanks to the SPARC grant.  Seniors Partnering with Artists Citywide is a community arts engagement program that places artists-in-residence at senior centers across New York, a collaboration among the NYC Department of Cultural Affairs, the Department for the Aging and the City's local arts councils. The program was developed as part of the Mayor's Age-Friendly NYC initiative, and is supported in part by a grant from the National Endowment for the Arts.  We also enjoyed several outstanding school residencies.
What a busy spring it was!  In May, high school dancers from the Frank Sinatra School of the Arts presented the finale from Encore in the Spring Concert 2012.  Held at the state-of-the-art Tony Bennett Concert Hall, in Astoria, the program included Jerome Robbins' Opus Jazz, presented in collaboration with American Ballet Theater. And twenty eight Talent Unlimited High School sophomore dancers performed an excerpt from Encore too, culminating an academic year-long residency.  Special thanks to Tony Bennett and his Exploring the Arts Foundation. We enjoyed two nursery residencies at the YM & YWHA of Washington Heights & Inwood.
Inception to Exhibition, a New York-based organization that supports multidisciplinary art and cultivates collaborations between artists, presented me in my signature solo Character at their gala. I am a 2012/13 ITE Space Grant Winner which resulted in the creation of new work in the winter of 2013, culminating in a packed showing at the Red Bean Studios in Manhattan thanks to ITE!  This new work premiered at The Abrons Center.
Also in May, of last year, the stylistically diverse, highly-acclaimed Rochester City Ballet debuted a thirty-minute excerpt from Encore at the Nazareth College Arts Center as part of their Spring Mix season.
In April, the NYC Dance Educators' 10th Annual Celebration of Dance: NYC Student Dance Festival in Long Island City, Queens took place.  Our Jazz Dance: It Don't Mean A Thing If It Ain't Got That…was performed by Manhattan's IS 52's Thrill Team at Long Island City High School.
The Company collaborated with the VON HOWARD PROJECT on the creation and performance of a new work, Dark Victoria, choreographed with Christian von Howard.  This premiered at Dogtown Dance Theatre, in downtown Richmond, VA.  Also in April White Room, a dance for camera film produced by the Company, screened during the 2012 Athens International Film and Video Festival, Athens, OH.  The film was also accepted into the danca em foco festival, occuring last summer in Rio de Janeiro, Brazil.
And now back to the present.  Thanks to the dedication of so many wonderful dancers and other artists over our 15-year history we have shared our art with many diverse populations through collaborations, workshops, and interactive performances.  Our audiences, and students, learn not only about the particulars of dance, but about themselves.  We are interested in sharing the comfort, challenge, joy, and endless expression possible through the exploration of dance.   The power of dance is undeniable, and now, more than ever, it is something which people everywhere desire to watch and experience. We see ourselves in a position to provide this experience, to present dance that has the capability to captivate, heal, and provide deep enjoyment.
Maintaining and growing the Company is a prohibitively costly process. We are dependent upon individual contributions to keep us charging full speed ahead. Additionally, there are a variety of other ways in which your support can be of tremendous value to us. Please visit our Support page to obtain more information about how you can help.
We look forward to hearing your thoughts about our site.  What would you like to see?  How can we bring our love of dance into your community?
Enjoy and please join us in the dance!
Daniel